Christmas in Baltimore, MD
Baltimore is a fun place to visit any time of the year. Baltimore's waterfront setting and interesting mix of modern, historic, and industrial architecture make for a great looking city. Add some holiday lights and decorations, and a festive spirit, and you have Baltimore for the holidays.
Although it can get cold in the winter months, it doesn't often get cold enough to snow. If you dress warmly, you should be fine walking around the city. Make sure you bring a good pair of shoes. The Inner Harbor area is very walkable, but things are more spread out than they appear, particularly if you want to explore some of the neighborhoods. The Water Taxi runs during the winter months and is a good way to get around the Inner Harbor.
Things to Do
Mayor's Annual Christmas Parade
Washington Monument with Holiday Lights, Mount Vernon
by
Brandon Lewis
licensed under
CC BY 2.0
Baltimore's big annual Christmas parade with lots of marching bands and floats. The 2015 parade will be held in the Medfield-Hampden neighborhood. December 6, 2015. More Info.
A Monumental Occasion
A popular annual event at which Baltimore's Washington Monument is lighted and fireworks mark the occasion. The 2015 lighting event is scheduled for December 3rd, 5:30pm - 7:30pm. More Info.
Bavarian Christmas Village at Inner Harbor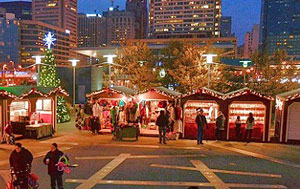 The German-style Christmas Village at Baltimore's Inner Harbor returns for 2015. The festive village is modeled after traditonal Christmas markets in Germany. It will be set up at West Shore Park, between the Visitor Center and Science Museum and will feature vendors with gift items for sale, plus food and drink. Open Sunday - Thursday 11:00 a.m. to 7:00 p.m. and Friday - Saturday 11:00 a.m. to 8:00 p.m., November 26th - December 27, 2015. More Info.
Olde Tyme Christmas in Fells Point
This historic waterfront neighborhood of Fells Point holds an annual holiday celebration that includes a holiday market, live music, horse-drawn sleigh rides, and a lighted boat parade. Santa even arrives by tugboat. And the neighborhood's pubs serve up specials for the Reindeer Run Pub Crawl. The 2015 Olde Tyme Christmas has been tentitively scheduled for December 5th. More Info.
Miracle on 34th Street
The residents of the 700 block of 34th Street in Baltimore's Hampden neighborhood have turned their street into something special. This block of traditional Baltimore row houses is lit up to the max. It's become a very popular sight to see. More Info.
November 29, 2014 Baltimore Sun article about the 2014 light display (includes a neat video).
The Holly Jolly Trolley
See Baltimore's holiday lights (including Hampden's "Miracle on 34th Street") aboard the Holly Jolly Trolley. Runs Thursdays - Sundays, December 4th - January 3rd. Departs from the Baltimore Marriott Waterfrom Hotel at 6:30 p.m. and 8:00 p.m. Details.
B&O's Magical Holiday Express
At the Baltimore & Ohio Railroad Museum. November 21 & 22 and December 1 - January 3, 2015. Enjoy a variety of special activities including a model trains show, visits from Santa, train rides, and more.
Hotels
Inner Harbor Hotels - Hotels in the Inner Harbor area provide easy access to shops, restaurants, the Bavarian Christmas Village, B&O Railway Museum, and Fells Point.
Hotels near Meyerhoff Symphony Hall - Going to the Holly Jolly Pops concert? These are some of the closet hotels. These are also close to the Modell Performing Arts Center at the Lyric.
Hyatt Regency Baltimore - Stay right at the Inner Harbor, within walking distance of attractions.
Baltimore hotels with free breakfast - Save money and enjoy your morning with these hotels that serve a free breakfast.
Holiday Entertainment
Baltimore Symphony Orchestra Holdiay Concerts - The BSO has a selection of holiday concerts lined up for 2015 that include Handel's Messiah, "Polar Express" set to music, 'Tis the Season with Brian Stokes Mitchell, Christmas with the Morgan State University Choir, and "Home Alone" movie with music.
Mannheim Steamroller Christmas - December 10, 2015. Enjoy Mannheim Steamroller's modern day Christmas classics performed with multimedia special effects. At the Lyric Opera House.
Discount Tickets! Goldstar has discount tickets available for Mannheim Steamroller's Baltimore performance. Details.
The Great Russian Nutcracker - The Moscow Ballet brings their annual touring production of The Nutcracker to the Hippodrome Theatre December 19, 2015. Discount ticket offer.
Baltimore Symphony Orchestra's 'Tis the Season Concerts - Tony Award winning singer Brian Stokes Mitchell joins the BSO SuperPops for a concert of holiday music. December 9 - 13, 2015. At the Meyerhoff Symphony Hall.
Merry Tuba Christmas - Enjoy holiday tunes performed by an ensemble of over 200 tuba and euphonium players. December 19th from 3:00 to 4:30 p.m. at the Inner Harbor Amphitheater.